Despite the fact that Covid-19 cases are on the rise, our team believed it is still important to provide relief to underprivileged families in order to ease their burden.
17 volunteers have braced themselves to come together and join us in grocery shopping for 19 families in need at PPR Pantai Ria.
..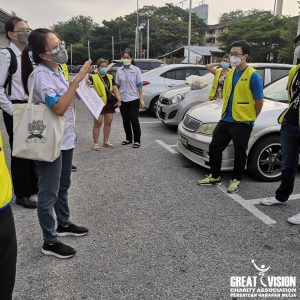 Volunteers first gathered as early as 8 AM at Giant Sri Manja, KL. Volunteers were then given a short briefing and introduction to the program, and are given a family's shopping list to each volunteer.
When the supermarket is open, which is at 9 AM – the volunteers went in with each shopping list in hand to fetch boxes to store the groceries and start shopping!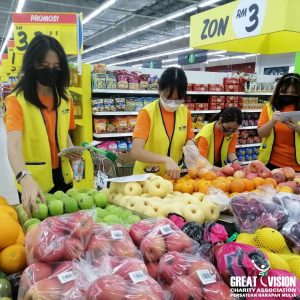 All volunteers then departed to each section to get the groceries wishlist from the families. As each family might have different items on their wishlist, with some preferred brands or quantities, volunteers work with focus to ensure all the necessities are fulfilled.
By around 11.30 AM, the shopping spree is done! Volunteers then headed to their cars to boot up the groceries and ready to head over to PPR Pantai Ria. Not forgetting their free lunch meal complimentary from Great Vision!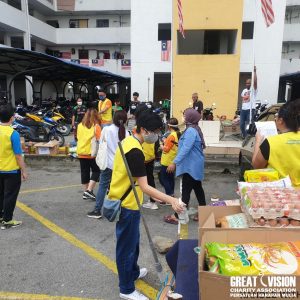 When everyone arrived at the PPR Pantai Ria and loaded out the groceries from their cars, we then waited for the families to come down with their IC to verify. We also encourage them to bring a family member to help out with carrying the groceries.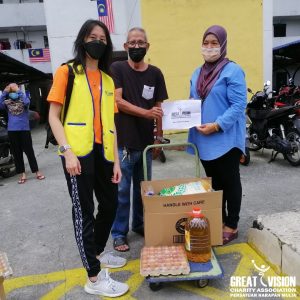 Volunteers then finish giving out the groceries for the families and are super happy to be able to cheer the beneficiaries' day up!