Year In Review 2017
Didik-Kasih EduCare Program candidate- Rose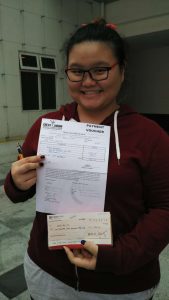 Coming from a low income family background, Rose has been receiving help and resited in a charity home based in PJ to receive better education. Despite being apart from her family in Johor, Rose appreciates every single opportunity that comes to her. Rose is an independent and outgoing and full of passion in her dream.
Great Vision Charity has been supporting Rose's studies in Diploma in Mass Communication for a year under the Didik-Kasih EduCare Program by providing a one off assistance of RM1500 and a monthly study allowance of RM250.
In return, Rose wished to give back to the society by organizing a charity project- Art & Craft Day with children from Rumah Kanak-kanak Impian, Petaling Jaya. Living in a charity home since young, Rose could understand the feelings and experience gone through by the children at charity home. Rose and her friends blend well with the children during the event. Through her sharing session at her charity project, Rose motivates the children to be creative in life and always be grateful for the assistance receive in charity home.
Besides having a fun day creating craft, the children were inspired by Rose and some children even feedback that they wish to be like sister Rose when they graduate from the home. Rose has set a good example for the children to be grateful and working hard in achieving goals in life.
Great Vision Charity was glad to see the transformation of Rose from a receiver to a giver. We wish Rose all the best in her studies and be an inspiration to many children from her charity home.
Read more about Didik-Kasih EduCare Program: